Tarmac Road Markings

Overview
This is a pack that consists of 9 new blocks that can be used to create a basic road layout for your worlds.
There are blocks for tarmac, vertical and horizontal white and yellow lines, plus 4 double white lines, one for each direction. The crafting is simple and easy (hopefully) because of the amount of blocks potentially required to build a sizable road network. It consists of gravel as the base block with white (bonemeal) dye and yellow (dandelion) dye added to craft each block.
One of the big advantages of this pack is that it only uses 1 block ID (ID=253). All the other road mods I've seen use many more but this isn't intended as a replacement for those mods, just a little something for CubeX2's CustomStuff users.
Also included in the pack is a default 16x png and a HD 64x png (HD textures require the installation of either the Optifine or HDPatcher mods).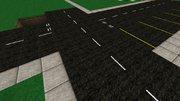 Recipes
Below are the recipes for all 9 blocks. This image is also included in the downloadable zip file.
The only required ingredients are Gravel, Black (Ink Sac) Dye, Yellow (Dandelion) Dye and White (Bonemeal) Dye.
The N,S,E,W compass directions were taken from a Rei's minimap mod and indicate the direction you would be travelling in. For example if you are travelling north and arrived at a junction the block to use would be White Junction North. Pretty obvious really.
Copyright
This pack is to be used for personal use only.
It is not to be distributed, uploaded or made available in any way on any other site without my authorisation.
The textures are all my own creation and must also not be used anywhere else. Feel free to resize them and if I like the result I may add it to this pack (no guarantees on that).
Download and Installation
Tarmac Road Markings - 336.9kb - created for CustomStuff 1. Not currently compatible with Custom Stuff 2.
If you are here I shouldn't need to tell you how to install this but just in case:
Place the files in the customBlocks and customRecipes folder inside their respective folders in your .minecraft/config folder.
Place the required 16x or 64x texture file into your CustomStuff x.x.x zip.
Remember that the 64x texture requires a HD texture patcher.
Enjoy.
Thanks
First and foremost to CubeX2 for creating CustomStuff that allowed me to create these files so easily.
Second to PsychoSupreme who actually inspired me to post something and for retroactively allowing me to copy one of his pages. :-)
Future Plans
Nothing at the minute as I have other ideas to work on but if I come across something I need it will definitely be added. Probably a double yellow centre line but I really don't know yet.
Community content is available under
CC-BY-SA
unless otherwise noted.