| This Article is up to date with Custom Stuff 2 | |
| --- | --- |
Ladders are such useful tools for getting out of the pit you made for mining. But have you ever wished you could have something other than plain wooden ladders?
Now with the ladder block type, you can add your own ladders to Minecraft. Make ladders out of stone, iron, or even diamond. Make colorful rainbow ladders. You can even make ladders that look exactly like stone or cobalt to hide your ladder from other players. You do not even have to use the same shape as the vanilla ladders.
Here is an example to help you start experimenting with Custom Stuff 2 ladders.
Ladder Example (CS2 0.9.10 and above)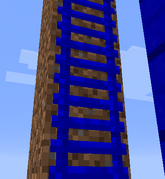 mod.js
config.addBlockIdProperty("cobaltLadderID", 2508);
mod.addBlock("cobaltLadder.js", "ladder");

blocks/cobaltLadder.js
id = config.getBlockId("cobaltLadderID");
name = "cobaltLadder";
material = "iron";
stepSound = "metal";
creativeTab = "buildingBlocks";

displayName[0] = "Cobalt Ladder";
hardness[0] = 5;
resistance[0] = 30;
toolClass[0] = "pickaxe";
harvestLevel[0] = 2;
textureFileXP[0] = "cobaltLadder.png";
textureFileXN[0] = "cobaltLadder.png";
textureFileYP[0] = "cobaltLadder.png";
textureFileYN[0] = "cobaltLadder.png";
textureFileZP[0] = "cobaltLadder.png";
textureFileZN[0] = "cobaltLadder.png";
addToCreative[0] = true;

Ladder Block Attributes
| | |
| --- | --- |
| Required Attributes | Optional Attributes |
textureFile and textureIndex
In CS2 versions for 1.4.7 and below, CS2 0.9.9 or below, textureFile was used to specify the texture sheet and textureIndex was used for identifying the specific icon within the texture sheet. If using CS2 0.9.9 or lower, make sure to use both of these attributes.